Rauner woos Orland Township residents at meeting Monday
By Ray Hanania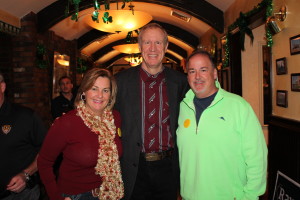 Republican gubernatorial candidate Bruce Rauner wooed a gathering of Orland Township residents and predicted he would win the Republican Primary and go on to remove Democratic incumbent Pat Quinn from office.
Rauner spoke for about 20 minutes detailing the issues he believes need to be addressed in the state, saying that while his critics are attacking him, he is attacking the issues.
After his speech, he took a wide range of questions from members of the audience who quizzed him on his stand on state pensions and Illinois' dire financial circumstances.
"This is our year. This is our election. We are going to sweep Pat Quinn out of office," vowed Rauner who was joined by his lieutenant governor running mate Evelyn Sanguinetti.
"We are going to transform our state government, that's why I am running. I'm sick and tired of these career politicians failing us. They fail us every year. They approve these pension deals. They approve more taxes. They drive businesses out of our state. I am sick and tired of it. I can't sit back and watch businesses leave our state. ... This is my home. This is your home. This is our home. ... This is where I was born and raised and I am not leaving without a fight."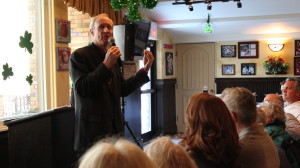 Cook County Commissioner and Orland Township Republican Committeeman Elizabeth "Liz" Gorman introduced Rauner to an audience of nearly 200 taxpayers at a meeting at FOX's Pub at 143rd and Ravinia Drive Monday afternoon.
"One reason I really like Bruce Rauner is that he is not attacking his opponents. He's talking about the issues. He's going after Pat Quinn," Gorman said to audience cheers. Afterwards, Gorman added, "This election should be about the issues that impact voters and taxpayers and no one is better to bring those issues to the public than Bruce Rauner. That's why we are supporting him."
Rauner said his priorities include improving schools and education,
Rauner said he met with his family before deciding to run for office and his greatest concern came from his daughter who said she didn't want him to run. "She said she didn't want me to run because she said she feared I would go to jail," Rauner said, citing the history of Illinois governor's who have been convicted of corruption and have been sentenced to jail terms.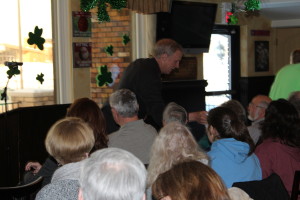 "I am the only person in this race who has never taken a nickel from the union bosses ... they have our political process by the throats and we are going to take it away from the," Rauner vowed.
Rauner said his top issues include creating jobs in Illinois and stemming the flight of big business out of the state; eliminate Gov. Quinn's "67 percent income tax hike" and overhaul the state's tax code; and to reform the pension system to guarantee the pensions earned by average statewide workers, but to end double and triple dipping by politicians and their cronies.
Rauner also repeated his promise to push for term limits if he is elected governor. Term limits would not just limit politicians to "eight years and no more," it would apply to him also.
Rauner, a successful businessman and former radio talk show host, said he had the backing of key Democrats in Chicagoland including Rev. James Meeks and several African American groups and church leaders, and said he was appealing to Hispanics in the state "who belong to the Republican Party."
Video of Rauner's appearance in Orland Township.
(Ray Hanania is an award winning former Chicago City Hall reporter and political columnist. He is the managing editor of Illinois News Network www.IllinoisNewsNetwork.com. This article was originally published in the Illinois News Network website.)
Related articles